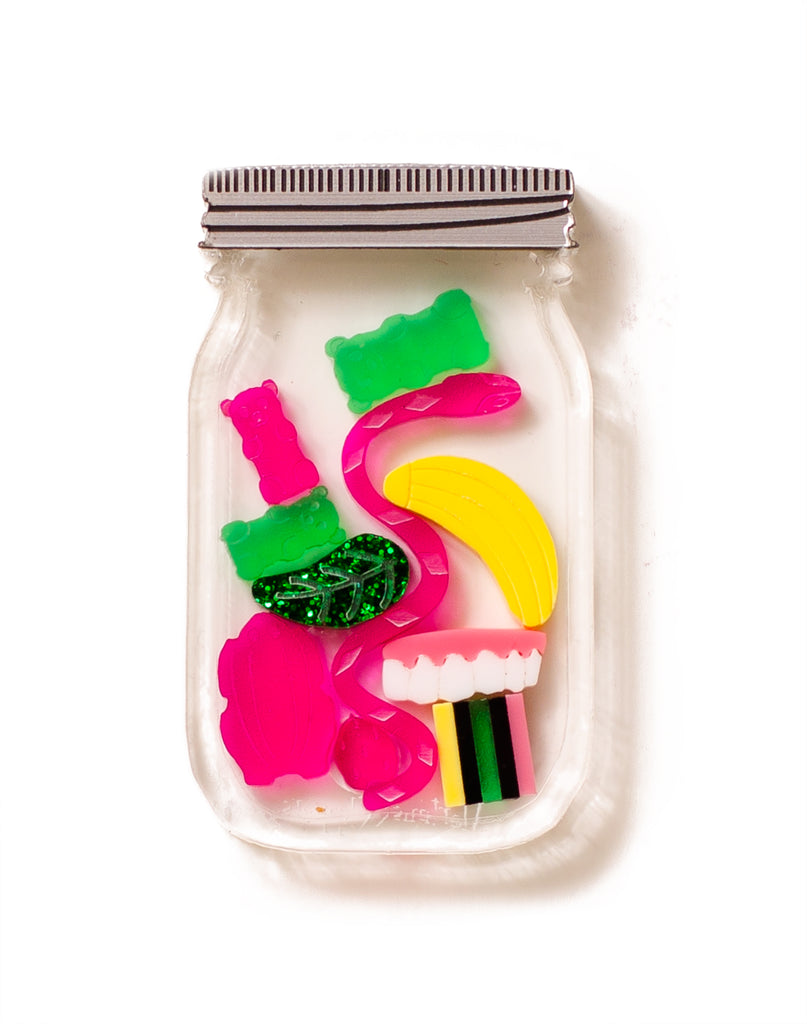 Lolly Jar Brooch
The Party Mix
I remember when I was a kid and finding even 5¢ on the ground meant JACKPOT. Off to the local milk bar to pick your own mix of lollies. The umming and ahhing trying to make the right choice and also stretch that 5¢ as much as you could. You really would be a maths expert - one of those....ahhhh...twoooo of thoooose...ummm...NO WAIT...one of thoooose. 
The choice has been made for you and now the party mix is in a clear jar you can wear as a brooch. Inside: Banana lolly, mint leaf, gummy bears, snake, frog, teeth, raspberry cream and licorice allsorts. 
What's your favourite?
Hand assembled clear acrylic filled with a variety of coloured frosted & glitter acrylic and a two tone silver & black lid with a brooch finding on the rear.
Size: 38mm x 65mm x 7mm
Made in Melbourne, Australia
*This brooch contains small pieces and is not intended for children under 12 years of age. This brooch is NOT a toy. If this brooch is disassembled it could become a choking hazard, please discard immediately. Colours of some pieces vary from the picture displayed.
---
---
More from this collection